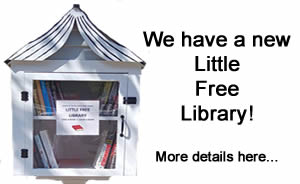 Take a virtual tour of Fall River Public Library!

Stay in touch! Subscribe to our newsletter.

Library Hours and Services
CURRENT (WINTER) HOURS: Monday through Thursday, 8 am-8 pm; Fridays and Saturdays, 9 am-4:30 pm.
PASSPORT AND NOTARY SERVICE BY APPOINTMENT ONLY. Call the library to schedule your passport or notary visit. Passport appointments are available Monday-Thursday from 11-6 and Friday/Saturday from 10-2 (10-1 in summer). For fees and other information, visit our Library Services - Passports page.
LIBRARY OF THINGS: You can borrow more than books! Our "library of things" now includes wifi hotspots, Nintendo Switch Lites, a laptop computer (in-library use only), bicycles (in season) and ukuleles!
What's New?

NOTARY SERVICE: The library now has two licensed Notaries Public available to notarize documents. Please call the Reference Department, 508-324-2700, ext. 3, to make an appointment.
LAMINATING: The Reference Department will laminate documents. The charge is $1 per page, and appointments are not necessary. Faxing and scanning are also available.

NEW RESEARCH DATABASES: New online research databases have been added to the Newsbank collection: Black Life in America, the experience and impact of African Americans as recorded by the news media, 1704 to today; Hispanic Life in America, the experience and impact of Hispanic Americans as recorded by the news media, 1704 to today; and HeritageHub, an online collection of U.S. obituaries and death notices for in-depth genealogical research from 1704 - today.
NEW DIGITAL ARCHIVES: We've added to our online local history collection! Find historical maps, newspapers, city directories and more on our Local History page.Our digital collection is growing, so check back often to see what's been added.
LOOKING FOR A GOOD BOOK? Here are the most-requested books at the library! Try one of these, or get read-alike suggestions from NoveList.
MURDER IN A MILL TOWN AUTHOR TALK: Author Bruce Dorsey discusses his investigation into one of Fall River's most notorious 19th-century crimes. If you missed his visit, you can watch the video below.