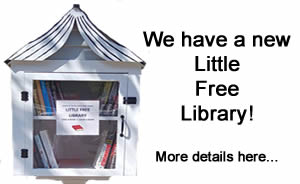 Take a virtual tour of Fall River Public Library!

Stay in touch! Subscribe to our newsletter.
Library Hours and Services

CURRENT (WINTER) HOURS: Monday through Thursday, 9 am-9 pm; Friday and Saturday, 9 am-5 pm. The library is closed on Saturdays during the summer (mid-June through Labor Day).
PASSPORT SERVICE BY APPOINTMENT ONLY. Call the library to schedule your passport visit. For hours, fees, and information, visit our Library Services - Passports page.
CHECK OUT A HOTSPOT! Our "library of things" now includes wifi hotspots, bicycles (in season) and ukuleles!
Book Bundles and Children's Storytimes

Not sure what you want? Let us be your personal book shoppers! Fill out the online form and tell us what you like to read, or call 508-324-2700, ext. 2 (adult/teen) or ext. 4 (children's.) We'll create a book bundle you can pick up.

Now offering: Weekly Children's Storytimes! Every Tuesday at 11 am, join us for stories and themed activities. Recommended for ages 3 and up.