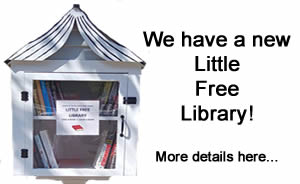 Take a virtual tour of Fall River Public Library!

Stay in touch! Subscribe to our newsletter.
Library Hours and Services
CURRENT (WINTER) HOURS: Monday through Thursday, 8 am-8 pm; Fridays and Saturdays, 9 am - 4:30 pm.
WE ARE NOT ACCEPTING BOOK DONATIONS at this time.
PASSPORT AND NOTARY SERVICE BY APPOINTMENT ONLY. Call the library to schedule your passport or notary visit. For hours, fees, and information, visit our Library Services - Passports page. Please note passport prices have gone up as of 1/10/2022.
LIBRARY OF THINGS: You can borrow more than books! Our "library of things" now includes wifi hotspots, Nintendo Switch Lites, laptop computer (in-library use only), bicycles (in season) and ukuleles!
What's New?

OTHER WORLDS: A live exhibition dedicated to the works of Stephen King was presented at the library on September 14, 2022 from 5:30-7:30 pm. Watch the video for a taste of the spooky fun!
NOTARY SERVICE: The library now has a licensed Notary Public available to notarize documents. Please call the reference department, 508-324-2700, ext. 3, to make an appointment.
NEW DIGITAL ARCHIVES: We've added to our online local history collection! Find historical maps, newspapers, city directories and more on our Local History page.

PRICE GUIDES & MORE: Get the Libby app for your phone, tablet, or desktop, and you can access not only e-books and audiobooks, but many extras, including Kovel's Antiques price guides; Kanopy streaming movies, and Universal Class online courses. Go to the Libby app and look under "Extras."
LOOKING FOR A GOOD BOOK? Here are our top books of the year for 2022! Pick one up at the library.