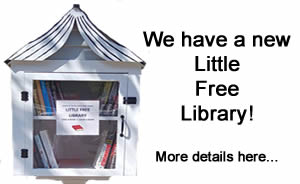 Take a virtual tour of Fall River Public Library!

Stay in touch! Subscribe to our newsletter.
Library Hours and Services
CURRENT (WINTER) HOURS: Monday through Thursday, 8 am-8 pm; Fridays and Saturdays, 9 am - 4:30 pm.
WE ARE NOT ACCEPTING BOOK DONATIONS at this time.
PASSPORT AND NOTARY SERVICE BY APPOINTMENT ONLY. Call the library to schedule your passport or notary visit. Passport appointments are available Monday-Thursday from 11-6 and Friday/Saturday from 10-2. For fees and other information, visit our Library Services - Passports page.
LIBRARY OF THINGS: You can borrow more than books! Our "library of things" now includes wifi hotspots, Nintendo Switch Lites, laptop computer (in-library use only), bicycles (in season) and ukuleles!
What's New?

BOOK OF THE MONTH: A video storytime presented by our Children's Department for you to watch at home! Follow our YouTube channel for more stories and library content.
NOTARY SERVICE: The library now has a licensed Notary Public available to notarize documents. Please call the reference department, 508-324-2700, ext. 3, to make an appointment.
NEW DIGITAL ARCHIVES: We've added to our online local history collection! Find historical maps, newspapers, city directories and more on our Local History page.
PRICE GUIDES & MORE: Get the Libby app for your phone, tablet, or desktop, and you can access not only e-books and audiobooks, but many extras, including Kovel's Antiques price guides; Kanopy streaming movies, and Universal Class online courses. Go to the Libby app and look under "Extras."
LOOKING FOR A GOOD BOOK? Here are the most-requested books at the library! Try one of these, or get read-alike suggestions from NoveList.