Teen Events

Fall River Public Library offers a variety of programs for adults, teens, and kids. Check our calendar to see what's going on at the library!

Submit work by January 12, 2022
"Words with Martin" Contest

---

Every Wednesday Evening, 5 pm - 7 pm
Magic: the Gathering

Our Magic: the Gathering group is back! Join us on Wednesdays at 5 pm. Players of all skill levels are invited. Bring your own deck or build a new one using the many cards we have at the library. Never played and want to learn? Someone will be willing to show you the ropes and join you for a game!

We will gather in the Fell Reading Room. Teens and adults are welcome. Recommended for ages 12 and up.
---


FRPL Gaming Stream - Join us Wednesdays from 3-4:30 p.m. on Twitch.
Dungeons & Dragons Group - Weekly meetups online. For info, email Taylor at tsilva@sailsinc.org.
Teen Art Group - Meets online on the first and last Wednesday of the month, 3-4 p.m., to share artwork. All genres welcome. For an invite to the Discord server, email Taylor, tsilva@sailsinc.org.
Comic-Con - The library sponsors a yearly Comic-Con! It was canceled in 2020 due to Covid, but we hope to return with a new comic-con in 2021.
Game Nights / Game Tournaments - We are currently offering monthly online game meetups. Check our calendar for upcoming events. To sign up, contact Taylor, tsilva@sailsinc.org, or call 508-324-2700, ext. 123.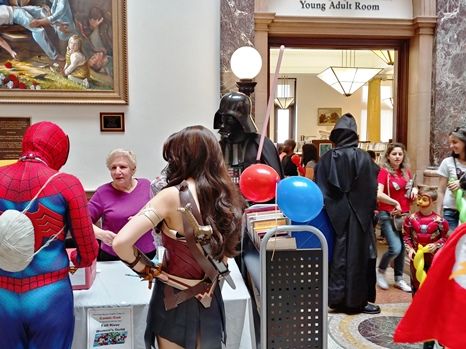 ---