Events & Programs
Fall River Public Library offers a variety of programs for adults, teens, and kids. Check our calendar to see what's going on at the Fall River Public Library!
---
Craft Series with Stephanie Enloe
The Friends of the Fall River Public Library received a grant to offer six arts and crafts workshops with local artist Stephanie Enloe of the Craftyish shop. This series is supported in part by a grant from the Fall River Cultural Council, a local agency, which is supported by the Mass Cultural Council, a state agency. Additional programs are sponsored by the Friends of the Fall River Public Library.
TUESDAY, OCTOBER 17 AT 6 pm *
Beaded Sun Catchers with Stephanie Enloe

*Registration is required and opens on Tuesday, October 3 at 10 am. To register, sign up at the adult circulation desk, or call 508-324-2700, ext. 2.
This free program is sponsored by the Friends of the Fall River Public Library.
---
SATURDAY, SEPTEMBER 16, 10 am - 1 pm
Dyeing to Wear It ® - FULL (Watch for repeat workshop in November!)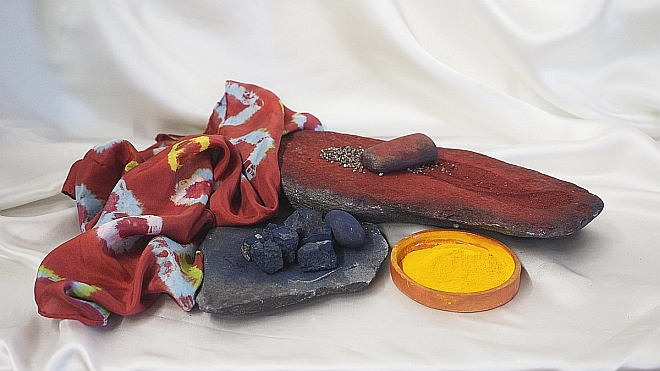 "Dyeing to Wear It"® is an interactive workshop where participants will create a beautiful and versatile piece of wearable art. Classes are infused with storytelling by the artist, filled with the textile history from the region and around the world, and how this history intersects with our shared American culture. It is a fun and interesting social event open to everyone. This program is led by Rhonda Fazio of Dyer Maker Studio.® Great for ages 16 and older. Space is limited; sign up early!

Registration for this program begins on Friday, August 25 at 10 a.m. Please call the Circulation Desk to sign up: 508-324-2700, ext. 2. (NOTE: We plan to offer this workshop again.)

---
MONDAY, OCTOBER 16 AT 6:30 PM
Bruce Dorsey: Book Talk on Murder in a Mill Town
Bruce Dorsey, author of Murder in a Mill Town, will discuss his new book, published this year by Oxford University Press. Murder in a Mill Town is a gripping narrative that brings readers to the courtroom and media circus of America's first "crime of the century" and celebrity trial, when Reverend Ephraim Avery was accused of the murder of Sarah Maria Cornell, whose body was discovered hanging on a farm in Tiverton (currently part of Fall River) in 1832.
Cornell, a mill worker, was pregnant at the time of her death, and a note found in her room read: "If I am missing, inquire of Rev. Mr. Avery of Bristol, he will know where I am." The sensational trial that followed would be Fall River's most famous murder case until the Borden murders 60 years later.
When news spread that Methodist preacher Ephraim Avery was accused of seducing and murdering Sarah Maria Cornell, the case gave the public everything they found irresistible: sexually charged violence, adultery, the hypocrisy of a church leader, secrecy and mystery, and suspicions of insanity. Murder in a Mill Town tells the story of how a local crime quickly turned into a national scandal that became America's first "trial of the century."
Copies of the book will be available for purchase and signing at the event. This program is free and is sponsored by the Friends of the Fall River Public Library.
---
Other Worlds: Stephen King Tribute
A live exhibition dedicated to the works of Stephen King was presented at the library on September 14, 2022 from 5:30-7:30 pm. Watch the video for a taste of the spooky fun!
---
Please note that face coverings are now optional when visiting the library.
Check our Teens and Children's pages for events for kids and teens.
Follow us on Facebook or subscribe to our newsletter for more updates.
---